On Monday I suggested we made some biscuits. I remembered that I had a cookie press in one of the cupboards, so I dug it out.
My trust ginger biscuit dough was loaded in, and off we went. Or didn't. We tried greasing/not greasing the baking tray. In the end, we searched for a Youtube video to help. We saw someone using a different type of press, but got the idea.
It was OK, but the mixture probably wasn't the best consistency. It was the type of machine where you have to click the handle, and DGS's hand was soon aching from the effort. We decided to try a different consistency dough, and that's when I realised I didn't have enough defrosted butter. I got ready to go to the shops, and looked online for a recipe for the particular press we had.
I couldn't find one for that press. I looked on the Lakeland website, which is where I got said press from. Nope. In fact, they didn't do that press anymore. I did a double take at the press they now did, it was one which didn't require clicking, just a simple press.
I decided to buy the different press as well, so we rushed into town to Lakeland. We couldn't find the press anywhere. I asked. There were 6 on the shop floor somewhere, just no where that we could see. Neither could the assistants. A search ensued, and eventually the 6 were located.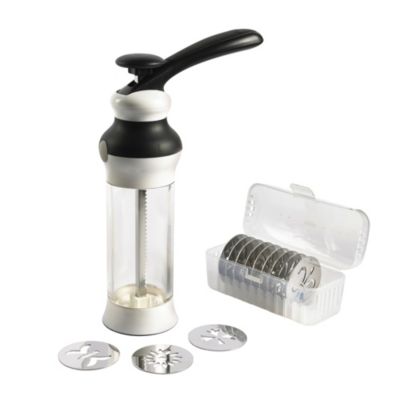 We came back, tried it...and it was amazing. I mean, really, really great. Easy to use, and such fabulous shapes. We filled tray after tray, baking 2 trays at a time. I meant to take pics, but completely failed.
The biscuits were lovely. We sampled plenty, and kept on doing "quality checks" to make sure they were OK stored in a tin. This went on over a couple of days.
For the sake of my waistline, I packedmost of them up in a tub for DGS to take home with him.
The pic shows the cookies being done on a sheet of baking parchment, but we had better luck on an ungreased baking tray.